Plains Quivers
My favorite quiver is the plains style quiver so named for the type of quiver the Plains Indians preferred. They are worn over the left or right shoulder as it is the personal preference of the hunting archer.
There are some nice advantages to these. Arrows are kept out of the way and do not hang on brush and removing arrows is easy and can be done without flagging game. A quick look can offer the archer a selection of blunt or broadead. These quivers are silent as the arrows do not rattle.
They are a cinch to make. Cut it out twice the width and the exact length you want. Fold it over and clamp it down with spring clamps. Drill the hole with a drill. Watch your fingers; you have to hold it so the leather doesn't bind. If you prefer, punch the holes with an awl. I use leather lace to stitch it. I just push it through with an awl or small screw driver. You can tie on a leather stiffener later. Make yourself a shoulder strap with a large piece or sew together a couple of smaller ones. Attach it to the quiver and your off. Make yourself a holster for the broadheads. I have 2 in the quiver placed in 1 holster and 1 in my hand. The holster can be made from a rectangular leather piece cut to size and stitched with the leather lace just like the quiver. In place of the lace you can use art. sinew or whatever you have. I usually do a spiral stitch.
Decorate your quiver to suit your tastes. The first one in the picture is my 3d quiver made from 2 rabbit skins stitched together. Only the bottom is reinforced with extra leather to keep the points from poking through. This one is decorated with pins from past 3d shoots offering an excellent reminder of fellowship and good times. The middle one is my hunting quiver with an extra compartment sewed in for bowstrings, etc. The bottom is my rainy day hunting quiver. It is long enough to completely cover the fletching.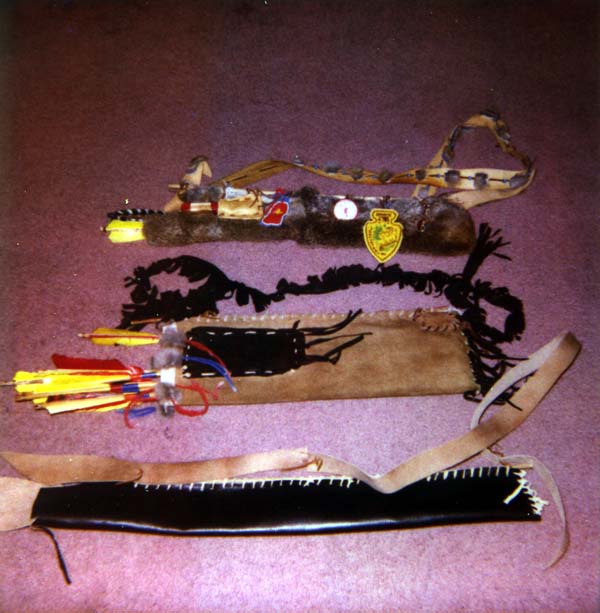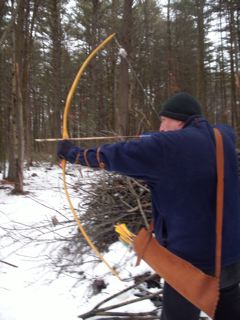 Return to Menu

Copyright 2000 George C Tsoukalas